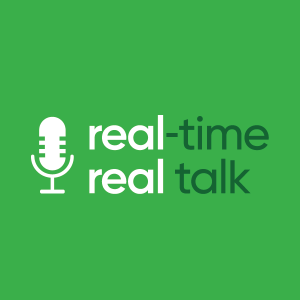 Monday May 15, 2023
What The Expanded CMS Guidelines Mean for your Medicare Patients | Real-Time Real Talk by Dexcom
Disclaimer: This podcast is not approved for CME credit. Every diabetes treatment plan is different, individual results may vary – nothing you hear on this podcast should be considered medical advice. All claims are supported by clinical evidence referenced in the show notes. For clinical study results, please refer to the Dexcom G7 User Guide. For product-related questions, please refer to the instructions for use. For complete safety information, go to dexcom.com/safety-information.
Fingersticks required for diabetes treatment decisions if symptoms or expectations do not match readings.
Dexcom G7 can complete warmup within 30 minutes, whereas other CGM brands require up to an hour or longer.
Smart devices are sold separately. For a list of compatible smart devices, visit: dexcom.com/compatibility.
The Dexcom G7 Continuous Glucose Monitoring System (Dexcom G7 System) is a real time, continuous glucose monitoring device indicated for the management of diabetes in persons aged 2 years and older. Dexcom G7 has no limitations for use in pregnancy.
About New Expanded Medicare Guidelines
Dexcom's partners are working to integrate insulin pumps, insulin pens, and digital health apps with Dexcom G7.
Data from collaborator devices and products must be verified by those collaborator devices and products. Users should confirm data and connections with their collaborator devices and products.
A separate Follow app and internet connection are required to follow CGM users' glucose readings and trends. CGM users should always confirm glucose readings on the Dexcom G7 app or receiver before making treatment decisions.
Brief Safety Statement
BRIEF SAFETY STATEMENT: Failure to use the Dexcom G7 Continuous Glucose Monitoring System (G7) and its components according to the instructions for use provided with your device and available at https://www.dexcom.com/safety-information and to properly consider all indications, contraindications, warnings, precautions, and cautions in those instructions for use may result in you missing a severe hypoglycemia (low blood glucose0 or hyperglycemia (high blood glucose) occurrence and/or making a treatment decision that may result in injury. If your glucose alerts and readings from the G7 do not match symptoms, use a blood glucose meter to make diabetes treatment decisions. Seek medical advice and attention when appropriate, including for any medical emergency.
Dexcom Clarity Safety Information
The web-based Dexcom Clarity software is intended for use by both home users and healthcare professionals to assist people with diabetes and their healthcare professionals in the review, analysis, and evaluation of historical CGM data to support effective diabetes management. It is intended for use as an accessory to Dexcom CGM devices with data interface capabilities. Caution: The software does not provide any medical advice and should not be used for that purpose. Home users must consult a healthcare professional before making any medical interpretation and therapy adjustments from the information in the software. Caution: Healthcare professionals should use information in the software in conjunction with other clinical information available to them. Caution: Federal (US) law restricts this device to sale by or on the order of a licensed healthcare professional.
Dexcom, Dexcom Follow, Dexcom Clarity, and Dexcom Share are registered trademarks of Dexcom, Inc. in the U.S., and may be registered in other countries.
Dexcom G7 User Guide
Martens T, Beck RW, Bailey R, et al. Effect of Continuous Glucose Monitoring on Glycemic Control in Patients With Type 2 Diabetes Treated With Basal Insulin:A Randomized Clinical Trial.  2021;325(22):2262–2272. doi:10.1001/jama.2021.7444
Aleppo G, et al. The Effect of Discontinuing Continuous Glucose Monitoring in Adults With Type 2 Diabetes Treated With Basal Insulin. Diabetes Care. 2021 Dec;44(12):2729-2737. doi: 10.2337/dc21-1304. Epub 2021 Sep 29. PMID: 34588210; PMCID: PMC8669539.
Psavko S, Katz N, Mirchi T, Green CR. Usability and teachability of continuous glucose monitoring devices in older adults and diabetes educators: a task analysis and ease of use survey. JMIR Hum Factors. 2022 Nov 8. doi: 10.2196/42057
International Hypoglycemia Study Group. Diabetes Care. 2015;38:1583-1591.
Boureau AS, et al. Nocturnal hypoglycemia is underdiagnosed in older people with insulin-treated type 2 diabetes: The HYPOAGE observational study. J Am Geriatr Soc. 2023;1–13. DOI: 10.1111/jgs.18341.
Acciaroli G, Welsh JB, Akturk HK. Mitigation of Rebound Hyperglycemia With Real-Time Continuous Glucose Monitoring Data and Predictive Alerts. J Diabetes Sci Technol. 2022 May;16(3):677-682. doi: 10.1177/1932296820982584. Epub 2021 Jan 5. PMID: 33401946; PMCID: PMC9294577.
Puhr S, Derdzinski M, Welsh JB, Parker AS, Walker T, Price DA. Real-World Hypoglycemia Avoidance with a Continuous Glucose Monitoring System's Predictive Low Glucose Alert. Diabetes Technol Ther. 2019 Apr;21(4):155-158. doi: 10.1089/dia.2018.0359. Epub 2019 Mar 22. PMID: 30896290; PMCID: PMC6477579.
Shichun Bao, Ryan Bailey, Peter Calhoun, and Roy W. Beck.Effectiveness of Continuous Glucose Monitoring in Older Adults with Type 2 Diabetes Treated with Basal Insulin.Diabetes Technology & Therapeutics.May 2022.299-306.http://doi.org/10.1089/dia.2021.0494
By 2023, there had been 52 million ULS alerts from Dexcom CGM systems, and 11 million of those occurred during the night. Dexcom data on file, 2023.